Achieve the world's best quality pasture and crops with our direct drilling technology.
Our world-best direct drilling technology is helping farmers produce some of the highest yielding crops and quality pastures for all stock grazing applications – delivering improved milk output and greater returns from sheep and beef cattle. We understand farming conditions, so all Duncan products can be relied upon to deliver reduced downtime, lower maintenance costs and longer machine life, whatever the demands placed on them.
All Duncan drills are designed to operate in zero or minimum tillage conditions, so that you can save time, fuel, soil moisture and sequestered carbon, with excellent germination results.
And Duncan drills are equally at home in pre-worked ground, so there are no limitations.
Check out our range of Renovator Tine Drills and Enviro Discs Drills to find the perfect fit for your job.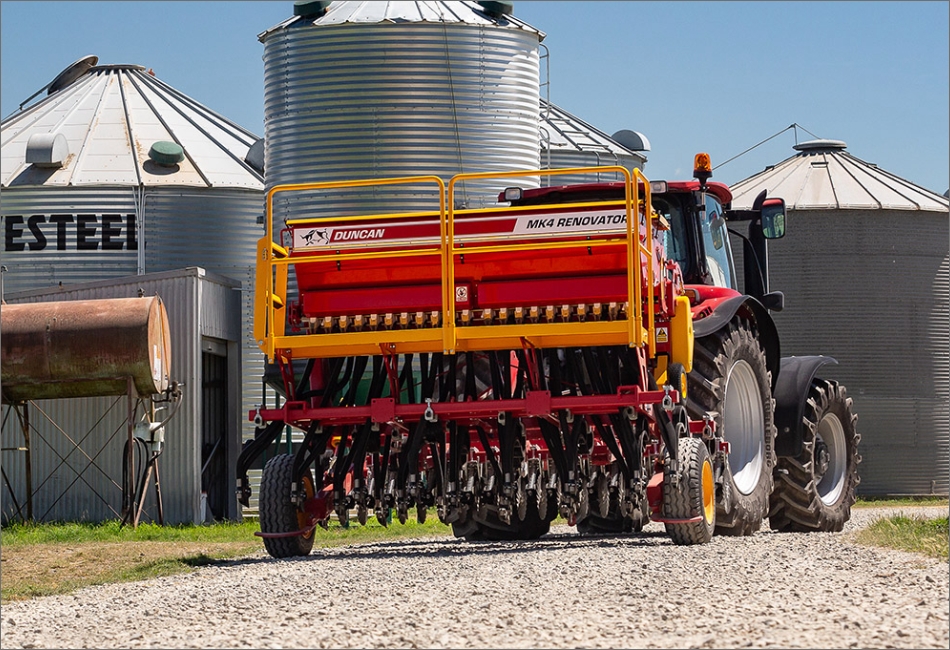 Duncan Tine Drills
With a lower initial investment and less ongoing maintenance costs than disc drills with no compromise on performance, our Renovator Tine Drills make great economic sense. Duncan Tine Drills will perform equally well in cultivated ground or direct drilling into virgin ground, existing pasture or crops.
See which Tine Drill is right for you
Duncan Disc Drills
Available in either double or triple disc configurations, we have a Duncan Enviro Disc Drill that is right for your application. With our unrivalled ability to follow ground contour and deliver seed evenly on all terrain, we are helping farmers produce some of the highest yielding pastures and crops in the world.
See which Disc Drill is right for you
Please choose answers for each question, the results will display one or more suggested drills .